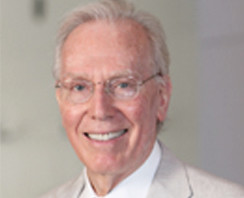 Dr. Fredric Edelman is an accomplished neurosurgeon who has been practicing for decades. He is an experienced, compassionate, knowledgable surgeon in Los Angeles, who is an expert in the fields of brain, spine, and nerve surgery with extensive experience in brain, peripheral nerve, and spine surgery.
Medical Background
Fredric Edelman, MD, FACS, has over 40 years of experience as a neurological surgeon. He acquired his BA at Princeton University, and went on to obtain his MD at Columbia University College of Physicians and Surgery in New York. In addition, he did a fellowship in Peripheral Nerve Surgery with David Kline, MD, and served on active military duty on the neurological surgery staff at U.S. Naval Hospital in Bethesda, MD.
Dr. Edelman is board-certified by the American Board of Neurological Surgery. He is a member of numerous medical societies including the American Association of Neurological Surgeons, the Congress of Neurological Surgeons, the American College of Surgeons, the American Society for Peripheral Nerve, the California Association of Neurological Surgeons, the American Medical Association, and the California Medical Association.
Dr. Edelman no longer performs surgery, but is available for consultations in his office, including second opinions. He also assists with surgeries.
Areas of Expertise
Dr. Edelman specializes in nerve damage and repair, and has published studies in peer-reviewed medical journals as well as written book chapters and book reviews. He was the co-director of a post-graduate course in peripheral nerve damage at UCLA, and he chaired a UCLA Microsurgery Symposium on Surgical Treatment of Peripheral Nerve Disorders. Dr. Edelman is one of the foremost experts in treating peripheral nerve damage in Los Angeles, as well as being an accomplished brain and spine surgeon.
Please click here to learn more about the spine surgeons at ProMed SPINE.
Next, learn about Dr. Todd Gravori.