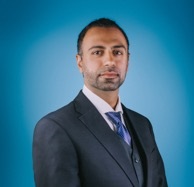 Peyman Gravori, DO
Dr. Peyman Gravori directs the Pain Management department at ProMedSPINE. Dr. Gravori is an enthusiastic and passionate physician who values good bed side manners and believes each encounter with a patient is a privilege and an investment in trust. Patients tell us they love interacting with Dr. Gravori; and he loves interacting with them!
Dr. P. Gravori's diverse interests include music from around the world and around the block. He loves classic cars, playing the piano, traveling, and appreciating life. His motto is: 'We all have to work, why not have fun doing it.'
Next, learn about Dr. Matthew Root.