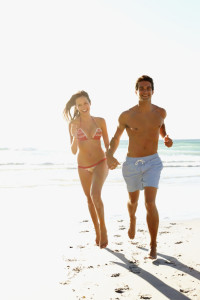 All cases of back pain are not created equal. Depending on the source, scope, and duration of the pain, back pain sufferers may be presented with a range of options to provide relief; from conservative treatments like rest, to physical therapy or minimally invasive spine surgery. While board-certified spine surgeons have more sophisticated and modern methods available to treat conditions like spinal stenosis and degenerative disc disease than ever before, it still holds true that in many cases, making a few simple lifestyle changes and modifications can lead to significant improvements in back pain, as well as a patient's overall health, well being, and quality of life.
What is the Relationship Between Excess Weight and Back Pain?
In a study presented at the annual meeting of the North American Spine Society (NASS) in 2013, researchers concluded that the risk of suffering from some form of back pain can be as much as four fold in extremely obese and overweight Americans. That said, the study also found that incorporating a regular routine of light exercise for just 20 minutes a day, such as taking a brisk walk each night after dinner, for example, could potentially reduce the risk for back pain and injury in obese individuals by as much as 32 percent.
Weight Loss and Back Pain Relief
As with any new physical fitness program or general lifestyle change, it is important to know the potential risks involved before undertaking any new activity. Dr. Todd Gravori, the Director of ProMedSPINE in Los Angeles, and his team of board-certified neurosurgeons, offer one-on-one, individualized consultations to help each patient find the treatment program and back pain management solution most appropriate for their situation.
Excess weight can place disproportionate strain on the lower back and spine, and lead to chronic back pain. Shedding unnecessary pounds can relieve the spine of excess pressure, and help increase energy levels and general health, which can lower the risk of back pain and injury down the line.
Contact ProMedSPINE in Los Angeles to Schedule a Consultation
If you are suffering from back pain, or have been diagnosed with a spine injury, like scoliosis or degenerative disc disease, and need a second opinion, call (888) 639-0188 today to schedule a consultation with a spine surgeon at ProMedSPINE.
Next, read more about Possible Complications of DISCECTOMY