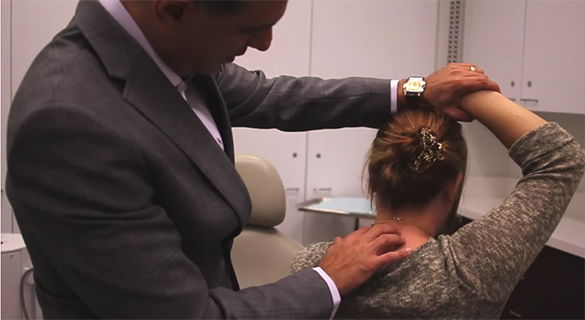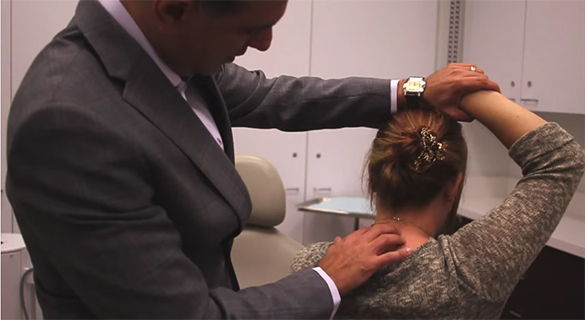 Percutaneous foraminotomy is a surgical procedure designed to relive pressure on nerves caused by compression from intervertebral foramina (foraminal stenosis). Intervertebral foramina are the openings between vertebrae that allow for the passage of the spinal nerves.
Foraminal stenosis is a condition that occurs when excessive ligament tissue or bone spurs narrow the openings between vertebrae. If the narrowing is significant enough to compress a nerve root, an individual may suffer back or neck pain, numbness, or tingling sensations in the arms or legs. Percutaneous foraminotomy is a minimally invasive outpatient procedure used to treat foraminal stenosis that has not responded to nonsurgical treatments.
The back surgery team at ProMedSPINE are experts in the use of minimally invasive surgery to treat foraminal stenosis. To learn more or to schedule a consultation, please contact our spinal facility today.
Percutaneous Foraminotomy Procedure
Percutaneous foraminotomy is a 30-45 minute spinal treatment performed under local anesthesia and sedation. With the patient lying face down, the surgeon uses a special X-ray known as fluoroscopy to locate the area of the compressed nerve. Next, a small incision is made in the back and a guide pin is advanced between muscles and into the foramen. Dilating tubes are placed over this pin to expand the tissue and allow for placement of an endoscopic tube.
Once the tube is in place, the surgeon inserts a high-tech camera and special instruments to remove a small amount of bone (laminotomy). The laminotomy provides a window through which our surgeons can remove bone and open up the foraminal space. If excessive ligament growth is pressing on the nerve, a laser can be used to remove the tissue and free up the compressed nerve. Once the spinal nerves have been completely decompressed, the instruments are removed and the incision is closed.
Advantages of Relieving Pressure from Vertebrae
Percutaneous foraminotomy offers a number of advantages over similar but more invasive treatments. These advantages include:
Expedited recovery time
Ability to be performed under local anesthesia
Less blood loss
Reduced post-operative pain
Lower risk of infection
Increased post-operative mobility
Minimized scarring
To learn more about spinal stenosis surgery, please visit Wikipedia.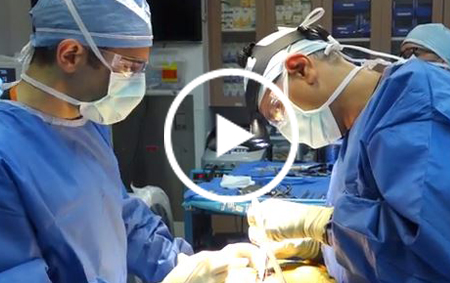 Frequently Asked Questions About Spinal Stenosis Surgery
Q: Who is a good candidate for stenosis surgery?
A: Candidates for percutaneous foraminotomy are those who have tried nonsurgical options to for their foraminal stenosis symptoms but have not found relief. Candidates should also be healthy enough to undergo surgery.
Q: What causes foraminal stenosis? What are the nonsurgical treatment options?
A: Foraminal stenosis is a condition in which the foramen or openings in the vertebrae have become clogged due to age or certain medical conditions, such as arthritis. The most common nonsurgical treatments are exercise, activity modification, and epidural injections.
Q: Is percutaneous foraminotomy a "minimally invasive" procedure?
A: Yes, because Dr. Gravori uses techniques and tools such as an endoscope (a tube with a camera on the end) that allow him to perform surgery with minimal damage to the surrounding tissue, percutaneous foraminotomy is considered a minimally invasive procedure.
Contact Spinal Stenosis Treatment Experts Today
The team at ProMedSPINE are board-certified neurosurgeons with fellowship training in advanced spine surgery. With locations in Beverly Hills, Encino, and Valencia, our Los Angeles-based practice is dedicated to the comprehensive, state-of-the-art treatment of spinal diseases and injuries. Widely regarded as leading experts in minimally invasive spine surgery, our team utilizes their extensive knowledge of spinal pathology and the most cutting-edge surgical techniques to provide high quality, patient-centered care.
To learn more about percutaneous foraminotomy or to schedule your initial consultation, please fill out our online contact form.
Next, learn about endoscopic laser spine surgery.