Scoliosis is a spinal deformity that mainly affects children and adolescents. It involves abnormal lateral spine curvature, which in severe cases can constrict the amount of space in the chest, leading to problems breathing. Scoliosis can be caused by conditions such as cerebral palsy or muscular dystrophy, but in most cases the cause remains unknown. Luckily, there are various treatment options for scoliosis, and in many cases surgery is unnecessary.
What are the symptoms of scoliosis?
Common symptoms and signs of scoliosis are a slumped posture, uneven shoulders, or ribcages at different heights. Other symptoms may include back pain, weakness in the thighs or legs, and in severe cases, breathing problems. Many schools across the United States perform scoliosis screenings, since the most common ages affected by the condition are between 10 and 15. If you notice signs that may point to scoliosis, be sure to make an appointment with a trusted, board-certified spine doctor such as Los Angeles spine surgeon Todd Gravori, MD.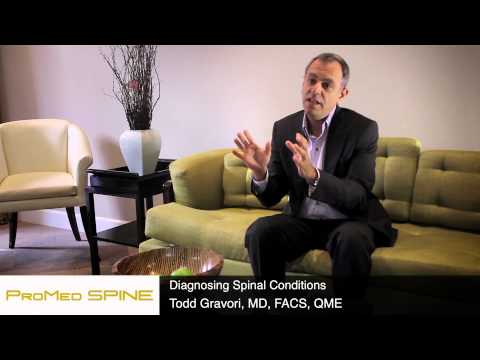 What are the treatment options?
In many cases, non-surgical treatment such as a back brace is all that's needed. Depending on the age of the patient, different methods may be suggested. A back brace can be extremely effective in stopping spinal curvature if the skeleton has not yet reached full maturity.
However, if the abnormal curvature of the spine is more than 40 degrees, or if non-surgical methods have found to be ineffectual, then surgery may be considered. Expert Beverly Hills scoliosis doctor Todd Gravori has years of expertise in all kinds of spine surgery, including spinal fusion. Spinal fusion surgery is the typical surgical method to correct scoliosis, as it has been found to be highly effective.
Endoscopic/Microscopic Spinal Fusion
Open spinal fusion has been the standard procedure for many years, but Dr. Gravori has pioneered a minimally invasive spine surgery technique called endoscopic/microscopic spinal fusion. This minimally invasive technique allows for a high degree of precision, as well as having such benefits as faster recovery time and less blood loss.
Scoliosis treatment Los Angeles
If you are looking for the most trusted and experienced spine surgeon in the Los Angeles area to diagnose and treat your or your child's scoliosis, you need look no further than expert Los Angeles spine surgeon Dr. Gravori. He places a high priority on patient care and satisfaction, and will sit down with you for a thorough consultation to find the best solution for your needs.
Schedule your scoliosis consultation at ProMedSPINE today!
If you think you or your loved ones may be in need of an expert scoliosis doctor, don't hesitate to contact Dr. Gravori. To find out more about scoliosis or to schedule a consultation, call ProMedSPINE at 888.75.SPINE today!
Next, read about spinal stenosis.