Patients suffering from chronic back, neck, or leg pain can oftentimes feel overwhelmed when deciding which treatment is the best option to alleviate their pain. It is important for patients to find a doctor who will thoroughly evaluate their condition and help them determine the most ideal course of action. At ProMedSPINE in Beverly Hills, Dr. Todd Gravori is committed to empowering his patients to make the decisions that are in their best interest.
How to Choose the Right Spine Doctor
There are some important questions that patients can ask when trying to choose the right spine doctor.
What are their qualifications?
Do they perform thorough consultations?
What is their stance on surgery?
Qualifications
Patients who are experiencing persistent back, neck, or leg pain that is interfering with their quality of life should seek treatment from a board-certified spine surgeon who specializes in treating a wide variety of spinal conditions. Spine surgeons have the training and knowledge necessary in order to properly diagnose spinal conditions and recommend the optimal treatment. Dr. Gravori's unique stance as a neurosurgeon specializing in the spine, neck and back allows him to bring to the operating table the most sophisticated techniques used in neurosurgery and orthopedic fields and apply those techniques for the benefit of his patients.
Consultations 
Unfortunately, today's doctors put too much focus on MRI scans and not enough on the patient. It is important that patients choose a doctor who will listen to their concerns and the description of their symptoms. MRI scans do not always point to the root cause of the pain and spine doctors must consult with their patients thoroughly in order to make the most accurate diagnosis. The first thing you'll notice when meeting with Dr. Gravori is the amount of time he'll spend with you during your consultation. Dr. Gravori is very patient-centric, and will perform a complete spine examination prior to discussing causes and solutions to your specific pain.
Surgery
Many people have back, neck, and leg pain that can be treated using non-surgical methods including medication, physical therapy, steroid injections, and pain management techniques. Patients should be educated on the treatment options that are right for them and understand that surgery is not ideal for everyone. Surgery is always Dr. Gravori's last resort, and it will only be performed if he has determined that it will get you back to your normal life and work. When surgery has been deemed to be the best course of treatment, Dr. Gravori will perform minimally invasive surgery when possible. Dr. Gravori encourages patients to seek a second opinion if their doctor recommends spine surgery in order to ensure they are receiving the most ideal treatment plan.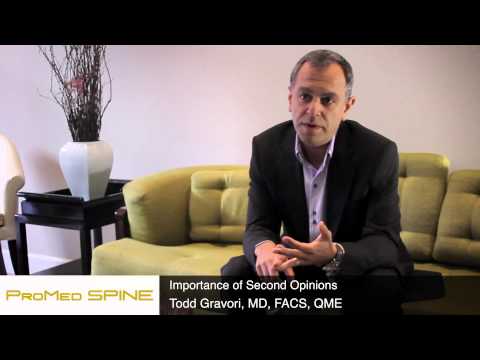 Schedule your Consultation with an Expert Beverly Hills Spine Surgeon Today!
Choosing the right spine doctor is an important first step in getting the right treatment for your painful spinal condition. Trust your spinal health to a board-certified spine and neurosurgeon with years of training and experience. To schedule a consultation with renowned Beverly Hills spine surgeon Dr. Gravori, call ProMedSPINE today at 888-75-SPINE!