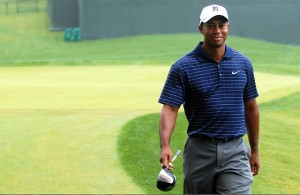 Former world number one and winner of 14 majors Tiger Woods will be sitting out the rest of 2015 following a second operation on his back to relieve pain from a pinched nerve. The PGA champion complained of back and hip pain earlier this year, and this will be Woods' second back surgery in the past 18 months, leading many to question whether he can successfully return to the game in 2016. Board-certified neurosurgeon Dr. Todd Gravori has extensive experience performing spine surgery on athletes hoping to return to the field.
"A microdiscectomy involves removing a small portion of a damaged spinal disc that may be pressing against sensitive nerves or allowing the vertebrae to grind together," said Dr. Gravori. "While that spinal disc will continue to be a weak point in the spine, it can help alleviate pain and allow the athlete to keep training and performing without much interference."
After his first back surgery in 2014, Woods' performance was generally poor, having missed six cuts out of 15 events. Following the second operation, Woods will focus on his recovery till early 2016 in order to give his body the best chance at fully healing.
"The recovery process is different for everyone, but with a pro athlete, getting them to stay off their feet and just relax is more difficult," added Dr. Gravori. "However, with someone as fit as Tiger Woods, even approaching the age of 40, it is possible for him to regain his full range of motion and form as long as he takes his recovery seriously."
NBC/Golf Channel analyst Notah Begay, who is also a close friend of the golf pro, commented in an October 1, 2015 teleconference that his friend does not have any illusions about his career at this point. At 40, retirement is near, but that does not mean that he is ready to throw in the towel.
"The twisting motion of a full golf swing can take a toll on the lumbar spine, so it is not surprising to see one of the top golf athletes in the world needs spine surgery at this point in his career," said Dr.  Gravori. "But a microdiscectomy is a fairly minimally invasive spine procedure and certainly not a game-ender."
About ProMedSPINE
Based in Los Angeles, Todd Gravori, MD, FACS, QME is a board-certified spinal and neurosurgeon specializing in the treatment of back, neck, and spinal conditions via minimally invasive procedures. From each of his five boutique locations, Dr. Gravori offers comprehensive treatment including diagnosis, education, treatment, surgery, and aftercare. Dr. Gravori offers treatment for herniated discs, spinal instability, spinal deformity, spine tumors, brain tumors, meningioma, hematomas, cavernous malformations, and carpel tunnel. Unlike large hospitals, Dr. Gravori's unique outpatient structure offers personalized care in a safe and controlled environment.
Next, read Is Your Office Chair Damaging Your Spine?