When your doctor recommends spine surgery, it is important to seek a second opinion in order to make sure that you are making the best decision for your health. The decision to undergo surgery is a serious one and patients should be fully knowledgeable about their treatment options. At ProMedSPINE in Beverly Hills, board-certified spine surgeon Dr. Gravori encourages patients to get second opinions from spine surgery experts.
What Questions Should I Ask When Considering Spine Surgery?
If your doctor suggests that spine surgery may be the best treatment option for your spinal condition or chronic back pain, there are some important questions to consider. Patients should ask their doctor if spine surgery is absolutely necessary in order for their condition to heal. In most cases, there are non-surgical treatment options available that can help alleviate pain. Spine surgery may not be the right choice depending on your individual diagnosis. Some patients have degenerative diseases that unfortunately may not improve with surgery. Undergoing too much unnecessary surgery can be detrimental.  Getting a second opinion may confirm that surgery is necessary or it may reveal alternative and non-surgical treatment options.
Watch a Patient Discuss Getting a Second Opinion from Dr. Gravori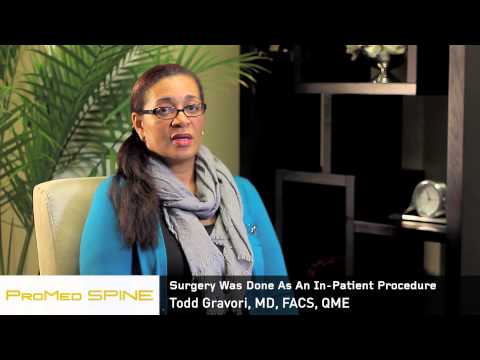 What are Non-Surgical Alternatives to Spine Surgery?
While minimally invasive spine surgery has much less risks than traditional spine surgery, some patients may not need surgery in the first place! At ProMedSPINE, Dr. Gravori believes that spine surgery should only be performed as a last result when other treatment options have been unsuccessful. Dr. Gravori may offer patients the following non-surgical pain management options:
Steroid Injections
Lumbar Epidural
Nerve Blocks
Physical Therapy
Piriformis Muscle Injections
During the initial consultation, Dr. Gravori carefully evaluates each patient to determine an accurate diagnosis and develop the best treatment plan. Dr. Gravori does not recommend spine surgery unless he believes it is absolutely necessary.
Why is a Consultation Important?
The initial consultation and exam with your spine surgeon is an important first step in getting the treatment you need to alleviate the symptoms of your spinal condition or injury. During the consultation, it is vital that patients communicate clearly and effectively with their doctor. It is equally as important that the doctor truly listens to the patient and thoroughly evaluates them. Dr. Gravori prides himself on taking the time to properly assess each patient so that he can make an accurate diagnosis. From that diagnosis, he can make the best treatment recommendation. Doctors who do not thoroughly examine their patients run the risk of misdiagnosing them and recommending the wrong treatment plan, which could include unnecessary surgical procedures. When you get a second opinion, you protect yourself from getting the wrong treatment and increase your chances that you will get the help you really need.
Watch Dr. Gravori Discuss the Importance of Seeking a Second Opinion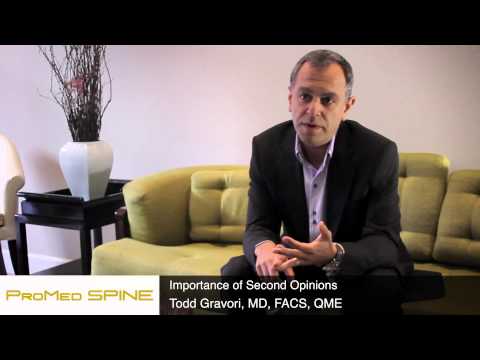 Get a Second Opinion from Expert Spine Surgeon Dr. Gravori Today!
If you have recently been told that you need spine surgery but would like a second opinion, call the best spine surgeon in Los Angeles! Dr. Gravori is a board-certified neurosurgeon with years of training and experience in diagnosing and treating spinal conditions and injuries. To schedule a consultation with Dr. Gravori and receive a second opinion, call ProMedSPINE in Beverly Hills at 888-75-SPINE today!